Xojo Inc is wrestling with the Android target since a while. Now, Xojo 'Android' seems to be a totally different thing than Xojo 'iOS'. Xojo 'Android' and 'iOS' projects use individual project files.
A low code IDE would allow a common code base for various target platforms with parts of platform-specific code only when absolutely necessary.
A knowledgeable user in TOF points at the challenges Android poses in development.
Members here in INN have also pointed at the challenge and workload the integration of Android as target poses for Xojo's dev team.
FileMaker's developer also saw customer demand for Android as a target. They did however abstain from this undertaking, which IMHO was a wise decision.
Xojo's iOS implementation remains notoriously incomplete, despite being in the market for 8 years now. How will Xojo Android fare?
Addendum: Marc von Breemen deleted his post, probably on the 'good advise' of Xojo management or some MVP. Here's the original post for documentation: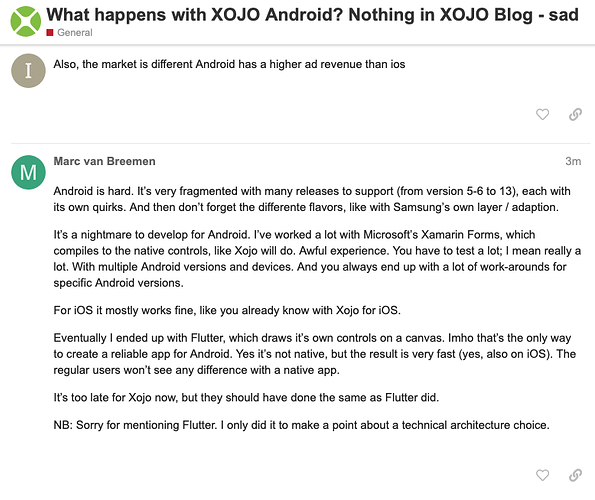 Nothing offensive and written to-the-matter I'd say.