Oh, I hope they don't do that for the next Java one. Or they write a Software doing it. Cause there would have to be a poor guy writing a few thousand times… uuup
I'll check my cynicism on this one

Dana is cheating… xojo staff and mvps should not be counted as attemdees
muhahah christian schmitz showed his 1.300 Pound Booking for couple of days… flights not included… WTF!
Can anyone tell if this photo has been taken at the XDC 2022?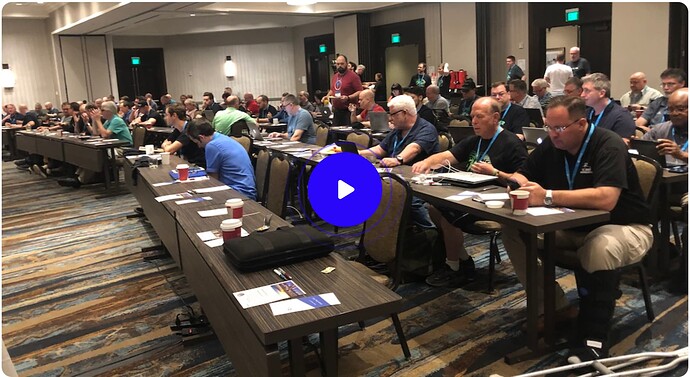 It is the cover photo of the XDC 2023 promo video which reportedly features scenes from XDC 2022:
https://xojo.com/xdc/london/index.html
really looks like the conference hall in Denver
before I left …
maybe 2017 or 2018
BUT I cant say for sure as I wasnt in Miami or Nashville so it could d be one of those and I'd not be able to tell
And I dont have my external drives with all the videos they've released over the years
It is Denver, 2018. I am at the back there somewhere. There was no 'XDC 2022', it was a retreat in Nashville.
The video is entitled 'XDC 2022 Highlights Video - don't miss out!'.
Then, neither the photo nor the title has anything to do with that 2022 event.
and you expected what ???

The still may be from Denver but the video isn't as far as I can tell having watched it so it's likely just a promo mashup of 2022 with Denver as the thumbnail.
That's the nice way to put it. I see a photo that implies a much larger attendance than XDC 2022 had in reality. In the context in which it is presented, the photo is a cheat.
Maybe so but I can't get excited about it. Denver was an excellent conference and my second, Houston the year before was my first and I did a presentation at Miami. Nashville did not really appeal to me, close to 'end of pandemic' and not sold as an XDC but it was still popular from the views of those that attended. I am attending London next week (home country so perhaps rude not to) to catch up with those XOJO friends made over the years. It will be sad that many who used to be regular presenters won't be there due to the reasons well talked about in these forums.
Can't they have a single interaction with customers without cheating?
Wouldn't be a big deal in a different context. It just fits into Xojo's marketing that is full of misleading claims.
Yeah, it's Denver 2018. I'm in middle towards the back.
IIRC that was the year I had not planned on attending due to multiple graduations and my schedule opened up at the last minute. At least one speaker had canceled on them so Dana had me do 1 (maybe 2) sessions and I received a nice discount.
Shoot, I can talk about Xojo for 45 minutes on pretty much any topic. I even did a session at our company all-hands meeting last summer. That was when we were still using Xojo. At this point I don't ever see us going back to using Xojo for new work.
That is pre-API2