Black Friday certainly makes sense
Guess we'll see won't we ?
Wasn't the last promotion a "Buy a license, get a lite license for someone else for free" instead of 20% off? I interpreted that as "We need all the money we can get, and we need more users" so it will be interesting to see what they come up with this time …
A buy one, give one away is a nice thing. Claris does that regularly in fall.
Like Norman buys one and gives one to Markus.
I'd assume there will be again a BlackFriday sale this year for new licenses.
NORMAAAaaaaannnnn … did you hear what Christian said you should do …?

Christian could buy two and give one to Norman and one to you Markus
PC POLICE!!! please use
A weekday of an alternative color

Well if Xojo does that I would not mind paying someone half price for the "free" license so we each wind up getting half off!

20% Off is just not enough to entice me to buy given everything. (might think about it with 30%+ off)
Something has come some up at work where an in-house web app would be useful… but if I got a web (or pro) license, I would use the "new" license to build a web app with 2019R1.1
I don't know web tech and would not want to have to climb the learning curve with Web 2… From what I can tell Web 1 is a lot closer to Desktop than Web 2… and I want a web app that acts and looks more like a desktop app!
In the early days of Web 1 I managed to create useful web app without too much of a learning curve and I'm sure it has matured a good bit since then, before Xojo abandoned it!
-Karen
As I recall it was a free LITE single desktop version, not a "buy one get an identical free" offer.
Well, there is already a "White Sunday", a "Green Monday", a "Green Tuesday", a "Blue Monday", "Black Friday", … seems the PC Police should prioritise dealing with the discrimination of the days and not their colour …

… but do they give away a "lite" license or a full one …

Day after USA Thanksgiving day

It was just the 20% and for marketing, the new version was released 3 days before.
No.
Happy 256th Day of the Year - Programmers' Day!

September 13, 2021 (AUSTIN, Texas) - Xojo, Inc., developer of Xojo, a cross-platform development tool and the Xojo programming language, today announced that in celebration of Programmers' Day, all new Xojo licenses purchased today will come with a free Xojo Lite (single platform) license you can give to a friend, a colleague, a spouse, offer it to a student, donate it, or keep it for yourself.
September <> November
256th Day of the Year <> The friday following Thanksgiving in the USA
Programmers' Day <> Black Friday
…
Maybe read the conversation first? We were talking about what the LAST promotion was, not what might or might not come.
Advertising for Black Friday 2016'…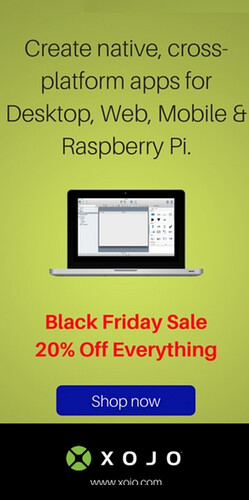 And in the end (wince 2016) I stopped asking google.com with site:docs.xojo.com and so I never again saw the Xojo advertising.