Certain companies have developed a great talent for alienating their customers with marketing tricks. Xojo Inc is a great example we all know too well.
Here's another one I'd like to share with you:
Claris published a new version on FileMaker this week. In their forum's product announcement this piece can be found:
over 500 improvements were made — many of them were first identified by Claris Community members in the Report a product issue topic.
Product issues are reported bugs. The marketing piece above now calls bug fixes 'improvement'.
A member of the community dared to ask what these 500 fixes actually are. Here's question and answer: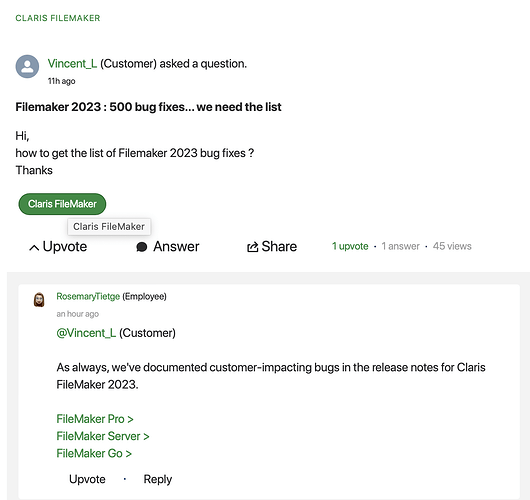 The release notes only cover a few fixes which the vendor deems necessary to inform their customers about.
In short the story goes like
Hey customer, we have a new version with 500 improvements (fixes). That's so great, go and buy it!

That's nice, I am a developer and need to know which 500 bugs got fixed

We've let you know some of the fixes in the release notes. The ones we want you to know. The rest of those 500 fixes we are boasting about is none of your business.
They've lost many customers and developers over the last years and the exodus goes on. I don't get it that even when customers and developers leave in numbers they don't change. Anyone has an explanation?
P.S. if the guy continued to ask for an answer he'd get lambasted by the MVPs there.