Thomas Tempelmann's post on using autodiscovery: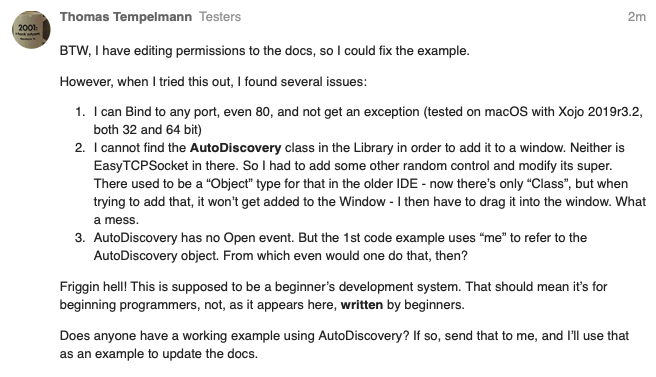 Don't you just LOVE Germans …

from https://forum.xojo.com/t/how-to-communicate-the-port-for-autodiscovery/56822/27
I suspect it won't be long before that gets shut down in some way.
Good read though.
Any opportunity for improvement is useless if the person in charge continues in a state of denial for any of the the symptoms.
There will be no change until either Geoff retires or Xojo has to do Chapter 11.
I'd tend to agree there is an opportunity here
I have my doubts they'll take it
They could / should have been doing "exit interviews" with users as well - for many of the same reasons
If a user didnt renew their license they could follow up and see why
A lot will likely be "I cant afford a renewal" or "I no longer need it"
But there will be others though, that give them feedback that is useful
To my knowledge they have never done this and so dont really know why people do not renew - just that they dont.
I'm hoping and guessing it's still possible that Xojo is just in a bad period these days/months, like having spent too much in wrong directions (testing ways) and will still be able to see what they did wrong and recover from that.
For instance, I have the feeling mentioning other tools on the official forum has ceased (decreased, at least) to be censored.
They may not publicly acknowledge mistakes, but it's still possible they are somehow aware of [some of] them and try to rectify. And since rectifying implies making a mistake in the first place, the time to notice, eventually recognise and finally mitigate the thoughts, this can take some times (especially when you don't want people to see you changed your mind, this has to be a lengthy process); we probably are seeing much more easily the moments where mistakes aren't yet addressed.
I can't and won't think this is impossible.
My positive rant to stay on topic

Beat a dog long enough for "bad behaviour" they usually start to obey and just dont do the bad behaviour.
Some learn YOU are bad and start to bite back
Very sure they know this
Had this been my first experience with such a thing - maybe
Now I'm not so sure
All I can say is "we'll see wont we?"
I'm hedging my bets
Or Xojo just shoots the dog (ie. bans the user)
Ya know, I've been having this exact conversation for about 15 years. Part of the reason why I helped found ARBP to try and get the "pro's" together and tell Xojo what we needed. Lot of work and no pay off. I've blogged ad nauseam. I've had conversations with various Xojo employees and the CEO. I've had more conversations that I ever care to admit. At the end of the day the direction of the company is set by the CEO and if he's not willing to change direction then we will.
I've become disgusted by the direction taken and the arrogance taken towards the long-time users. It's almost as if they don't want us as customers.
It's a feeling that's shared by several "Pro" developers I've spoken with recently.
I dont know if its arrogance towards long term users or apathy towards them ?
Either way long term users, who are often also full time developers, feel like we're along for the ride but have to sit in the back of the bus where the driver cannot hear us.
Xojo likes to put "our" wares on display (see " What others are making with Xojo" on Xojo.com or here https://www.xojo.com/resources/examples.php)
Some of the people bitching moaning and whining ARE those developers Xojo likes to show off and say "See what YOU can do too !"
Guys who have PUBLICLY said "not using it any more" like Tim Dietrich are still showcased (odd isnt it?)
If the person who makes the decisions writes something publicly in the forum and later, not only deny it, but swear that he is incapable of writing something like that, And swear that everyone who knows him would say that he is incapable of doing it…
Maybe the arrogance is at a level that makes impossible to allow any acknowledgment
It is more likely that it has nothing to do with long term/pro users. It is more like a disregard to any other opinion than his own.
I think it's part of Xojo's strategic orientation, and I've described the reasoning and problems in Letter to Geoff
What if they were just trying a turnover which has the bad effect of temporarily confusing regular users?
For example, they might be trying to harmonise all parts of the framework (so you have the same code on desktop, iOS and web; that'd be the API2.0 move, like it or not) and this move has to disturb habits for a moment, until all is working again, for something better in the end.
That's my sight for now.
And yes, I can see the benefit in them merging the language… The problem is, if that was their intention, they could have done it in a way that wouldn't have broken so much.
It also makes me ask the question as to why it different in the first place?
I'm open to think they've not handled that very well, but this leads to a possible light at the end of the tunnel.
Even if they're actually not merging the language (that my assumption is wrong), this question is still valid.
I'm inclined to think they've done mistakes, hard to not think that. But I don't think [yet] all is over.
It often feels like a developer who really likes <some other language/IDE> gets vocal about the current Xojo and insists that 'the bit they are working on' has to be more like 'this other language'
Well, the said that. But, Xojo could just align iOS with the rest of the framework instead of making this big mess and nonsese renaming.
Granted. The exception should not become the rule that everything must conform to.