Following the discussion in Issue 69997 I tested the effect of different settings of the DesktopDateTimePicker property 'HourMode' on the time format displayed and how it correlates with the setting of the macOS System property 'Time Format':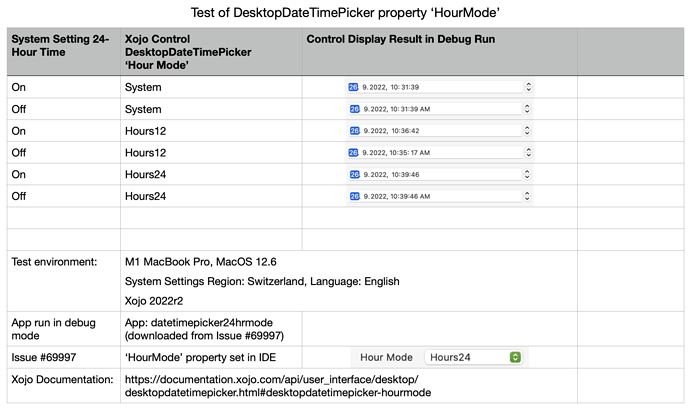 Observation: the time format in display is always conform to system settings (24-Hour Time on or off). The DesktopDateTimePicker property 'HourMode' settings 'Hours12' and 'Hours24' have no effect when different from the system's 'Time Format' setting. This is what I would expect. The wording of the official documentation 'Dictates how the hours will be displayed.' and the fact that HourMode can be set in the IDE imply the opposite.
Question: If the property 'HourMode' cannot override the system setting, how is it then different from a read-only property?
Please have a critical look at the test setup and results shown above. Is there anything I did not understand properly or I missed out? How would you answer the question above ?