In GIMP, when you click in the numerical field to change the Pencil size: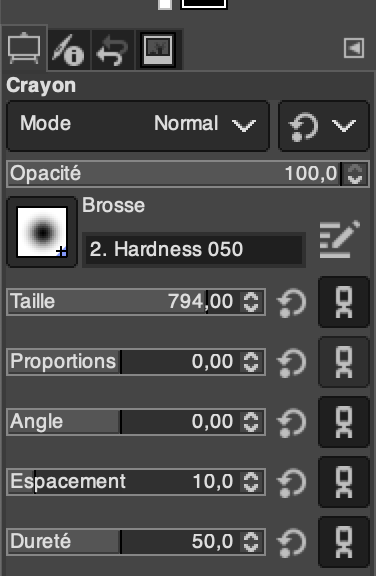 The image on screen is half the above size (144dpi displayed as 72 dpi image).
It was 10 before I clicked, and after the click it is 794 (can be anything this large).
I've made a bug report explaining that and here's the answer I get:
because they are sliders you need to click on the number if you want to change it. Or you can click and hold on the space and use the slider.
The bug report was discarded. This is not a bug, but a feature.
I issued more bug reports and one feature request. Because I was so angry, I do not read the answers I get for these.
Like with another set of companies, I will stop talking to them.
BTW:I'm nearly 70, my vision is not the one of a 20 y/o kid, and so, clicking in the top or bottom arrow to increase/decrease the Pencil value is byond of my ability (nearly all the time I click on the wrong arrow).
I nearly forgot: select-all (Cmd-A or Alt-A) does not works too. Only fn-Delete and Delete works. Go figure.
Doh: this is for each and every field where you can change a numerical value.
I do not talk about their stich feature: it is faster to do it using Apple's Preview… (put together some photos to realize a larger a panorama).