I got 3 to give away, let me know if you'd like one. First come, first serve.
Please excuse my ignorance. What is Bluesky?
It is a new social media platform that is slowly gaining momentum with the techies. Currently it is invite only.
p.s. Only two codes left…
This and Discord are the only Social Media I can handle, but thanks
Yeah
being social … bah !!!

Read a few of their blog posts & have to say I like their approach to YOU own your data, connections, history & its portable
And NOT controlled by come unaccountable company ; basically a direct jab at Twitter & Reddit
s'all gone now, you come back real soon for more codes

lol…
Thanks to Sam, I am now @tekcor.bsky.social. We'll see if this gets more life than Mastodon.
I'll join you guys tomorrow!
Thanks for the code Sam, I'm currently @acharlton.bsky.social . Using your domain name as a handle on Bluesky looks interesting so I'm going to look at that.
@Adamc I don't see acharlton as a bluesky handle. Is there a typo?
I have one more invite, DM me if you're interested.
5 Codes! I'm @halgumbert.bsky.social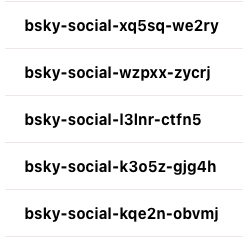 I think they have all been used…
Thanks but now I don't know who has already claimed what. I nabbed the one from Sam but want one for my wife. I'll take the last one, lol
I took
the middle one (bsky-social-l3lnr-ctfn5)
I'm @normp.bsky.social
I used the top one (bsky-social-xq5sq-we2ry)
eugenedakin.bsky.social
Just got some more. Please reply with the index of the one you used so others know…