For my current project which will be a developement system that will write a Swift/Xcode project complete with GUI… I was going to need code to translate a dialetic of BASIC into Swift for Xcode to compile.
Well last night I realized that I had spent days copying code from my Xojo proof of concept and then manually changing case and syntax so it would compile in Swift.
Doh! Since the end project needed to be able to translate, and I needed said translation to help write the program that would translate (catch-22?)… I wrote this today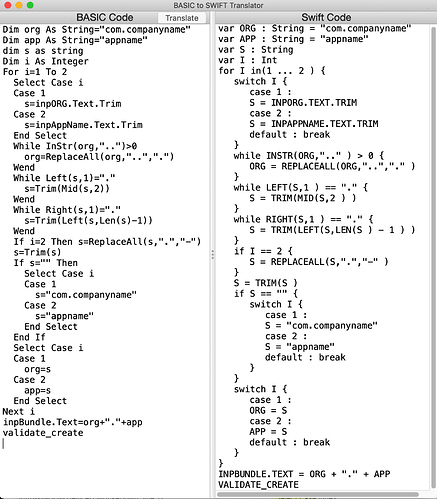 It is not 100% accurate (yet)… but I figure it will save me hundreds of hours of drudge work over the next few weeks, and I'll tweek this as I use it.
If anyone is interested…let me know and I'll compile this and post it…
And if you play with it, and find situations that are translated incorrectly, let me know
FYI… this too is written in Swift